Paver Installation DIY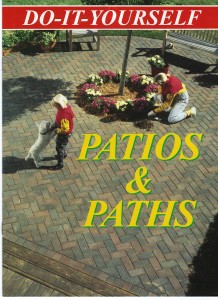 Larry Trail      I Can Dig It DIY     Projects 301-748-2464
The most difficult and labor-intensive part of installing patios, steps or walls is the excavation and achieving the correct elevation, also the removal of the soil. Did you know for every 100 Sq.Ft. there is 4.16 Tons to be removed. That's what I do for the DIY home owner is supply a dynascape drawing to scale for you and or your HOA ,call Miss Utility, demo and remove any concrete if necessary , excavate the 9"which is recommended by most paver manufactures, compact the sub grade
place stablelizing fabric over the sub grade, place CR-8 in 3"lifts compacted to achieve minimum total of 6" compacted to ninety-eight percent proctor density
At this point you're ready to screed your concrete sand to 1 inch and place the pavers of your choice and nail down your snapedge paver restraint and sweep in the polymeric sand
I've done many projects of this kind for DIY home owners and contractors with great success
I hope you choose to go the DIY route with segmental retaining walls concrete pavers Interlocking pavers or even Preamble pavers , your creating your own work of art to admire
for years to come . This is truly sweat equity !
Your Landscape value Statistics
In 2001 homeowners spent $37.7 billion caring for their property, up from 22.5 billion five years previously, according to the National Gardening Association.
A Society o
f Real Estate Appraisers Survey revealed that 95 percent of the appraisers responding to the survey believed that landscaping adds to the dollar value of residential re
al estate, while 99 percent of them said it enhanced the sales appeal of residential real estate.
A variety of studies reveal that landscaping can increase the value of residential and commercial property from five to as much as 20%.
Your Landscape Value
A nicely landscaped property can increase the value of your home by 15%, allowing owners to recoup 100-200% of their investment at selling time. This compares with the investment recovery rates for kitchen remodeling (75-125%), bathroom remodeling (20-120%).
Source: Money Magazine, February, 2000
As an investment, landscaping can increase the value of your property by as much as 20% – if it is done well.
Source: This Old House magazine, April 2003
The Wall Street Journal reported that landscape investments are recovered fully, and sometimes doubled, via increasing real estate values.